EAI, Inc's North American Crude Supply, Logistics, Refining & Pricing Outlook 2014
EAI, Inc.'s latest North American Crude Supply, Logistics, Refining and Pricing Outlook 2014 study represents its most comprehensive North American Crude Study ever.  Learn firsthand why this study, associated information resources, one-on-one client seminars, and support consultation have served all segments of the industry for over twenty years.  The North American Crude study provides integrated geographical insights and outlooks as shown below with detailed insights into specific crude grade commodities (heavy crude, heavy crude-high TAN subset, light crude grades, etc.) in addition to focus on major industry business segments including upstream production, transportation logistics, refining, crude trading, and marketing and the players across these industry segments.
There are a number of key insights and outlooks spanning the integrated crude business for each relevant geographical area as well as business segment specific insights and information resources addressing refining at the plant and hub level, pipeline logistics at the corridor and asset level and crude production at the basin and grade level of detail. EAI, Inc.'s North American Crude Study, the North American Shale Fairway Crude Study, and the Gulf Coast Crude Deep Dive study plus customized information, analytics, and study building block assembly are addressed as options in and detailed further in the North American Crude Supply, Logistics, Refining and Pricing Outlook 2014 Study summary. Some highlights from the North American Crude study are itemized below with more detail available in the summary that is available for download.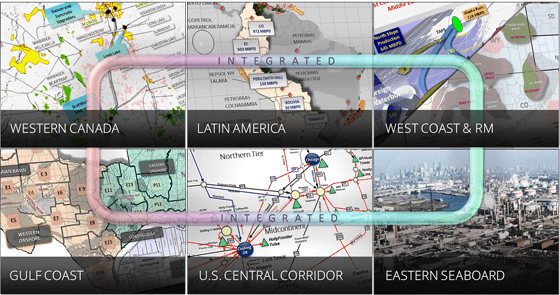 Integrated North American Shale Fairway Outlook and Regional Insights
EAI, Inc. has updated its analysis of the Western Canada, Rocky Mountain, U.S. Central Corridor and Gulf Coast regional crude business areas including interaction with Latin American (LAM) and other global crude streams.  This includes examination and update of 85 plus refinery profiles, update of all key pipeline projects as well as alternative rail transportation options and current and future likely crude flows and capacity needs and production outlooks for all areas by basin and crude grade.
Heavy Crude Balance Dynamics
EAI, Inc. draws on its integrated Western Hemisphere heavy crude outlook (described below) to assess the interplay of the heavy crude network with light and medium crude grades. Shifts in crude supply by grade category will change the demand for transportation logistics and longer term refinery investment commitments.   The heavy crude component is a very critical component of this analysis and outlook; it will change the composition of the Cushing –Gulf Coast crude movement grade mix in a dramatic fashion over the next few years. Light crude logistics needs will have to share corridor capacities (both pipeline and rail) with growing heavy crude flows.
Gulf Coast Market
The Gulf Coast market consists of 47 refineries and eight key refinery hubs examined by EAI, Inc.  EAI, Inc. assessed the timing and impact of the light and medium crude market wall in the Gulf Coast impacted by the ability to grow its gasoline market, displaceable foreign crude stream potential and likely light-medium crude import floors.  The east-west Gulf Coast interaction to clear the Western Gulf Coast surge of Cushing surplus is also addressed in detail as part of this assessment  The shift schedule for Permian Basin and Eagle Ford crude to the Gulf Coast market centers is analyzed in context of competing streams, logistical capabilities and refinery needs.
U.S. Central Corridor-Cushing and Gateway to Gulf Coast
EAI, Inc. provides regional insights into the U.S. Central Corridor crude network, local refining outlooks and interaction with surrounding regions. The U.S. Central Corridor refining base has been operating at near maximum capacity and is seeking alternative gasoline market outlets to capitalize on its advantaged crude position. Although lagging the crude business, there are fundamental refined product logistical shifts that are occurring that will change the northern refining crude market structure. The Gulf Coast draw of increasing heavy crude from the north, coupled with logistically "stranded" North American Shale Fairway crudes will continue to influence Cushing and its supply-pricing relationship to the Gulf Coast.
Bakken and Eagle Ford Shifts
Bakken and Eagle Ford crude will have to compete for the Eastern Seaboard refining market. EAI, Inc. examines the timing and likely logistics needs for moving these crudes to the Eastern Seaboard refining market versus other market alternatives. These long haul moves will have major impacts on Jones Act tanker needs and costs as well as rail car needs considering the relatively long transit and turn-around time. There will also be major interaction between the Brazilian Pre-Salt/Santos Basin medium sweet net supply and the same U.S. refinery markets.
Western Canada Deep Dive Analysis and Outlook
Integrated oil and crude resource centric companies in Western Canada have shifted investments to heavy oil/bitumen production and reduced spending on upgrading projects in consideration of the light crude production ramp-up across North America. SAGD and bitumen mining (XOM Kearl project) projects continue to expand although with growing concern about market access limitations and the outlook for light – heavy crude price spreads. EAI, Inc. provides its latest outlook for Western Canada production streams, upgrading projects and heavy/bitumen production projects integrated with an assessment of pipeline capabilities and projects, current supply logistics. Rail projects are expanding to transport heavy crude to market reducing the need for condensate and routing to markets that are currently not accessible via pipeline.
 Learn why the U.S. –Gulf Coast heavy crude market will continue to grow as the most valuable outlet for growing Canadian heavy crude production potential. Increasing heavy crude needs in the Midwest and Midcontinent coupled with replacement of LAM origin crude and increasing Gulf Coast refinery take of heavy crude will shift southbound movements from predominately light crude to predominately heavy crude movements during the mid-term part of EAI, Inc.'s outlook.
Latin American Crude Production, Refining, and Balance Outlook
EAI, Inc. has updated its outlook for Latin American production, refining and crude export potential providing insights into each country and drivers for supporting and expanding both upstream production and downstream refining projects. This bottom-up work is integrated into a composite outlook for LAM crude production, internal processing and likely export patterns in consideration of the U.S. as well as non-Western Hemisphere markets.
Heavy Crude Outlook
EAI, Inc. has continued and expanded its assessment of the growing Latin American region which has and will continue to have profound impacts on the U.S. and Canadian crude market as well as its refined product market. With Chinese investment and loans in Venezuela and continued decline of Mexican Maya crude coupled with increasing heavy crude refining capability (albeit-slower than advertised), EAI, Inc. has bounded likely evolving heavy crude balances integrating Western Canada, all regional U.S. markets and the outlook for net Latin America supply availability. This has major impacts on pipeline logistics and pricing relationships across all crude grades.
Light Petroleum Dynamics
The LAM downstream market represents the largest incremental market for U.S. light products and, with the U.S. light crude market wall rapidly approaching (North American Light and Medium Crude Market Wall below) will impact the Gulf Coast's ability to ramp-up crude runs to supporting growing light product exports which are roughly 1400 MBPD (gasoline and distillate).
Brazilian Pre-Salt Santos Basin
Brazil's Santos Basin activity is the newest and one of the biggest resource plays in the Western Hemisphere. Some of the production streams from this area are medium gravity and low sulfur with relatively low TAN levels. Brazil's two major refinery projects are focused on processing more traditional heavy crude from the Campos Basin. The net supply of the Santos Basin crude pools available for the U.S. market could rival the Eagle Ford and Bakken in size and compete for some of the same refining markets.
West Coast Crude Outlook Summary
EAI, Inc. provides a summary of its U.S. West Coast crude outlook derived from its latest West Coast Crude Supply, Logistics and Refining Outlook 2013 study. Higher priced foreign crudes, a declining gasoline market and increasing competition from peripheral refining centers (WTX-NM, Rocky Mountains) and California's push to implement AB32 legislation have created new challenges for West Coast refiners. EAI, Inc. addresses these factors that are re-shaping the West Coast refining and crude market.
Rocky Mountain Crude Outlook Summary
EAI, Inc. provides a summary of its Rocky Mountain Petroleum Business Analysis and Outlook study with focus on the outlook for crude production, runs and crude balances with likely surplus supply for other refinery markets. Similar to the WTX-NM and U.S. Central Corridor regions, the Rocky Mountain refinery business is enjoying an advantageous crude supply and pricing situation but limited by downstream market access. The UNEV pipeline from Salt Lake City to Las Vegas is part of the evolution of this area to capitalize on its crude advantage while the pricing advantage over coastal refineries exists. The Rocky Mountain Eastern Corridor extending from Eastern Montana to Guernsey and Denver is growing as an increasing crude source for Cushing and downstream refinery markets.
Eastern Seaboard Crude Market Outlook
The Eastern Seaboard extending from Newfoundland south to the Philadelphia-Delaware City refining areas is undergoing dramatic change as it pushes to access inland U.S., Gulf Coast and Western Canadian crude sources to compete with both domestic and foreign sources of refined products. EAI, Inc. provides its latest insights from its Gulf Coast-Eastern Seaboard Downstream Business Analysis and Outlook study to assess how refineries in this Eastern Seaboard refinery corridor are shifting their crude slates to compete in local as well as foreign product markets. Inclusive of Eastern Canada, the Northeast represents a displacement of foreign light/medium grades in the range of 1000 to 1400 MBPD depending on logistical access and grade displacement economics.
Integrated and Business Segment Specific Insights and Outlooks
Crude Marketing, Trading, and Purchasing Functions
EAI, Inc. provides an integrated perspective from the big picture level to the bottom-up level of detail and across all relevant components to define, identify and schedule key events and trends that will impact the supply, availability, delivery and pricing of specific crude grades by major crude hub. EAI, Inc. uses this analysis to evaluate basin level and crude distribution hub level crude clearing price. The relationship between global, North American coastal and inland NA Crude hubs establishes EAI, Inc.'s outlook for crude hub and grade differentials that are the drivers for crude trading opportunities, well head netback optimization and refinery margin maximization. As part of this framework, EAI, Inc. provides its outlook for Brent-LLS differentials, WTI Cushing vs Brent Gulf Coast and North Dakota light sweet Clearbrook vs WTI Cushing. Clearing price outlooks and triggers both short term and long term are also addressed at the crude basin and grade level with focus on the primary domestic swing crude.
Heavy Crude Analytics and Outlooks
EAI, Inc. provides an integrated outlook for the Western Hemisphere heavy crude market in consideration of the latest production outlooks, Western Hemisphere refining capabilities for heavy crude, competing medium sour and light crude streams and alternative global markets for heavy grades. The timing of production ramp-ups, transportation projects and refinery projects to run heavy crude are all critical to the outlook for heavy crude distribution / market patterns and pricing. EAI, Inc. looks at how this is likely to transition from the short term when heavy crude supply is likely to grow tighter to longer term when EAI, Inc. expects Canadian heavy crude length to increase and build a growing critical presence in the U.S. Gulf Coast subject to logistical bottlenecks LAM crude grade and distribution shifts.
Light Crude Analytics and Outlooks
The growing light crude situation has its roots in a number of factors and not just incremental shale/tight oil production in North America. The growing supply of light crude grades is also driven, in part, by declining gasoline consumption in U.S., Canada and Europe and conversion of refineries from light crude to heavy crude feedstocks especially in the U.S. The collective impact of these factors is on the order of 4000 to 5000 MBPD in EAI, Inc.'s extended Atlantic Basin Area (Western Europe through U.S. Eastern Seaboard and Gulf Coast regions). OPEC (really the Saudis) are backing down medium sour grades to absorb, in part, the light crude surplus. This is how crude grade substitution is working internationally. Displaced light crude is being absorbed in some traditional medium sour crude markets. In North America, EAI, Inc. has examined the outlook for the role of crude grade substitution and logistical costs to set crude hub clearing prices. For example, we are rapidly approaching a period where Gulf Coast sour crude substitution economics will interplay with Eastern Seaboard light grade displacement but higher transportation costs for growing inland light crudes such as the Bakken.
Production Forecasts by Basin/Region and Grade
The Detailed in EAI, Inc.'s North America proposal, EAI, Inc. provides production analysis and forecasts by sub-basin level and grade and rolls this information into specific crude grade pools that are marketable grades with specific crude assays and refinery values. EAI, Inc. has applied its drilling, characteristic well and production forecast process to all major U.S. basins and has employed similar bottom-up approaches to major production sources in Latin America and Canada. Many of these areas are driven by specific projects such as the SAGD and heavy oil mining projects in Canada and the Venezuelan Orinoco area. EAI, Inc. profiles drilling costs and clearing price requirements for some of the newer production areas. EAI, Inc. applies these capabilities to segregate other resource streams such as condensate. This was recently done at the well level for the Eagle Ford where condensate is a significant part of the production outlook.
Refinery Analytics and Outlooks with Linkage to the Downstream Business
EAI, Inc. conducts its downstream business practice using the same bottom-up and integrated approach as described in this document for its approach to the crude oil business. With declining gasoline demand in mature global economics accelerated with environmental related policy (US CAFÉ standards, diesel push in Europe, etc). This situation coupled with limits on gasoline RVP across a number of U.S. markets coupled with a growing diesel market (considering distillate exports as well as the North American domestic market), there is a growing challenge for refiners to increase their take of these growing light crude streams while match the shifting product demand slate. EAI, Inc. has profiled all refining centers and all U.S. refineries regarding crude processing capability, crude run levels, plant utilization and crude slates for the most recent operating calendar year (2012). EAI, Inc. also provides an outlook for crude runs driven by its downstream business analytics and product demand drivers.
Crude Oil Transportation, Logistics, and Network Balance Forecasts
EAI, Inc. has long served the crude oil transportation and logistics business segment and has intricate knowledge, experience and information bases addressing specific modes of transport, specific transportation corridors and pipeline assets and how these systems interact with production, port facilities and downstream distribution hubs and refineries. Over the last couple of years, EAI, Inc. has expanded its transportation data base which tracks all pipeline and marine routes and costs to include all major rail movements. EAI, Inc. employs its crude Network Balance Forecast model to project crude supply, demand and movements integrating refinery demand, production basin grades and transportation options between source hubs and downstream distribution and/or refinery hubs. This has been applied to specific production basins and centers of logistical activity across North American.
EAI, Inc. has recently implemented a pipeline project tracking information base that is used to support client tracking of crude pipeline options, project status and impact on specific transportation corridors and crude routing. This system has been used to support EAI, Inc.'s intricate assessment of likely future crude hub and crude grade differentials across North America. EAI, Inc. has used this system and its staff to evaluate and support a number of transportation projects across the crude oil, refined product and condensate/NGL commodity spectrum.

Study Deliverables
Subscribers to EAI, Inc.'s North American Crude program with receive the following deliverables:
Five printed copies of the North American Crude study in its entirety

Consultation on client specific topics and issues as long as they are within reasonable bounds of the original study Scope of Work

Information and data support in Excel format

Copies of the complete Executive Summaries, Business Component Summaries and information support tables on CD-ROM

A formal presentation presenting the program results and addressing specific Client inquiries can be provided to the Client upon request