EAI, Inc.'s coverage of crude oil is marked by in-depth information, analysis, and insight for all segments of the crude trade from production and logistics, to refining and economics.
We track world crude production and pricing from a top-level perspective down to the production basin level. EAI, Inc. has extensive experience in evaluating the integrated crude oil supply, distribution and refining business structure. By conducting its analysis at the resource and asset level of detail, while recognizing macro trends and events, EAI, Inc. can provide a range of knowledge applicable to specific operations, assets and resources. EAI, Inc. offers a comprehensive array of products and services as parts of its crude product and consulting business that are integrated with EAI, Inc.s Downstream and Market consulting and product business areas. EAI, Inc.'s unique and leading edge bottom-up data bases, analytics and value building processes have also been applied to the condensate, NGL and natural gas business areas.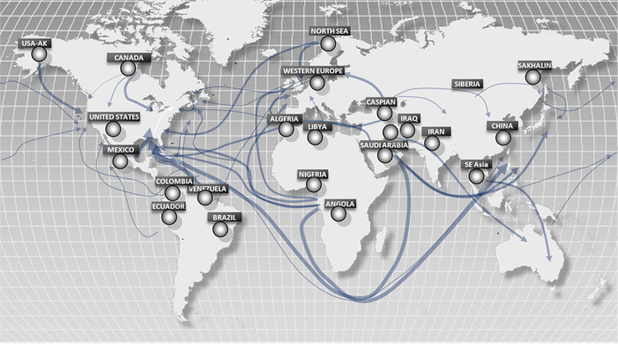 Crude oil specific areas of expertise and focus include:
Opportunity crude assessments: production outlook, quality and access
Crude oil supply planning for refiners
Crude oil logistics and transportation strategy
New pipeline and terminal opportunities and project feasibility
Asset/company transaction sale and purchase support
Transportation rate support: market based and FERC allowable
Pipeline crude bank tracking and strategy support
Crude oil trading and marketing tactics and strategy
Crude oil valuation
EAI, Inc. has developed comprehensive databases, models and value added output objective application tools to support all of its business areas including its crude oil product and consulting practice. EAI, Inc.'s overall crude study approach for its industry studies and to support client specific strategies is shown in the figure that follows: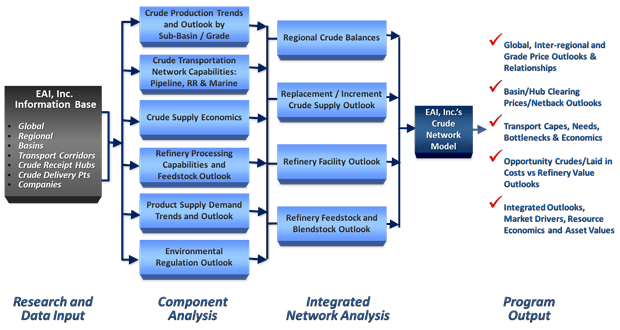 EAI, Inc.'s Special Topic/Industry Study consulting area includes studies that are issued on a regular basis by EAI, Inc. with inclusion of some data/topic specific client customization. These products include regional refined product business studies, regional crude oil supply-demand-logistics-pricing studies and special topic studies focused on specific commodities (condensate, distillate, jet fuel, gasoline, etc.), business components (logistics, refining, resource development, etc) or new trends/events (fuel oil sulfur specifications, West Coast carbon emission regulations, etc.). EAI, Inc. has been marketing these types of studies since 1984. These products and supporting analytics tools/models and information bases are a major part of EAI, Inc.'s in-house petroleum business knowledgebase.